The Electro-Steam TruBlu Option was specifically designed and manufactured to add the ability for any of our models to deliver even hotter, drier steam vapor for critical cleaning applications that require extra high steam heat with the lowest possible moisture content.
TruBlu is a "steam super heater" designed for our 10 kW - 60 kW models, to produce higher steam temperature at the same working pressures of the Eagle Series Dry Steam Cleaners.
Standard Features:
Built in accordance with ASME Miniature Boiler Code
Dual Pressure Controls (UL 353)
High Pressure Safety Reset. (UL 353)
Low Level Cut-Off (LLCO) (UL 353)
200 psi Safety Relief Valve (ASME Section I - V-Stamp)
Included Options (Standard for Eagle Series Generators):
Steam Gun (33 ft Hose)
Steam Tool Accessories Kit
The ASME Certification on each Eagle Series Model is your assurance that the unit is safe and legal to operate because it is compliant with ASME Boiler and Pressure Vessel Code and registered with the National Board as required by US law.


Click here to read the NB-370 synopsis.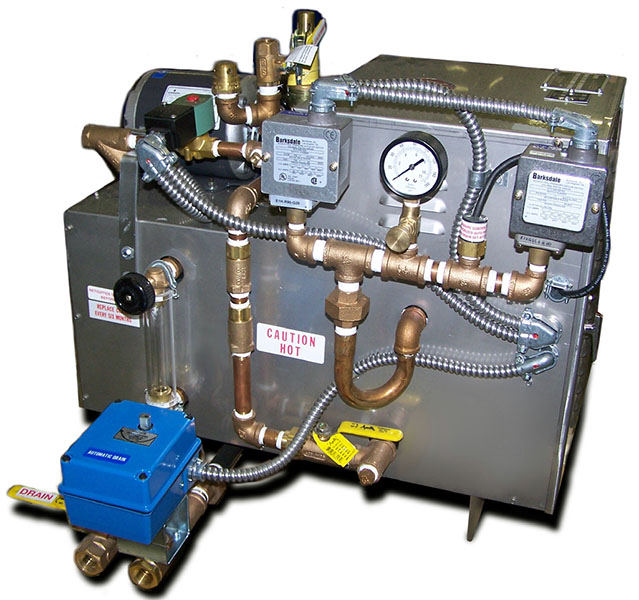 EAG LB-60 (TruBlu)

N/A

60 Kilowatt (kW) Electric Portable Dry Steam Cleaner with TruBlu

N/A

60 kW

N/A

6.0 bhp

N/A

5 to 160 psi

QUOTE

EAG LG-10 (TruBlu)

N/A

10 Kilowatt (kW) Electric Portable Dry Steam Cleaner with TruBlu

N/A

10 kW

N/A

1.0 bhp

N/A

5 to 160 psi

QUOTE

EAG LG-20 (TruBlu)

N/A

20 Kilowatt (kW) Electric Portable Dry Steam Cleaner with TruBlu

N/A

20 kW

N/A

2.0 bhp

N/A

5 to 160 psi

QUOTE

EAG LG-30 (TruBlu)

N/A

30 Kilowatt (kW) Electric Portable Dry Steam Cleaner with TruBlu

N/A

30 kW

N/A

3.0 bhp

N/A

5 to 160 psi

QUOTE

EAG LG-40 (TruBlu)

N/A

40 Kilowatt (kW) Electric Portable Dry Steam Cleaner with TruBlu

N/A

40 kW

N/A

4.0 bhp

N/A

5 to 160 psi

QUOTE