Standard Features:
Components are built by a manufacturer holding a valid ASME Certificate of Authorization in accordance with ASME BPVC Section I – Rules for Construction of Power Boilers.
A.S.M.E. CSD-1 Compliant
UL Listed and labeled under UL 834
Dual Pressure Controls (UL 353)
High Pressure Safety Reset. (UL 353)
Low Level Cut-Off (LLCO) (UL 353)
15 psi Safety Relief Valve (A.S.M.E. Section I - V-Stamp)
Recommended Options (Non-Standard):
Spare Parts Package
Motorized Automatic Flush & Drain (MAFD)
Single Service Transformer
5-Micron Water Filter
Click here to read the NB-370 synopsis.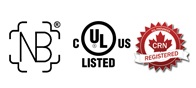 "
1 Each Electro-Steam™ electric steam generator requires two (2) power supplies: One (1) primary high voltage supply and one (1) secondary 120 VAC 1Ø, 50/60 Hz supply. Each generator is custom built to accommodate only one (1) customer specific high voltage supply for the heaters. 120 VAC 1Ø, 50/60 Hz must also be supplied for the controls, unless the Single Service Transformer option is added.
2 Three Phase (3Ø) primary high voltage is standard, but steam generators with a power rating of 30kW or lower are also available in Single Phase (1Ø) upon request.
3 Calculations are based off of a 212 °F boiler feed-water temperature. Boiler feed-water temperatures that range between 60 °F and 140 °F, are approximately 80% to 90% of the calculated values shown. Boiler feed-water must not exceed 140 °F.
4 Wetted Surface.
5 Manual Low Water Reset is supplied standard with every boiler, but it is not hooked up. If this reset is required as per your local boiler codes, simply plug the two attached wires into the PC-Board terminals labeled "Reset".